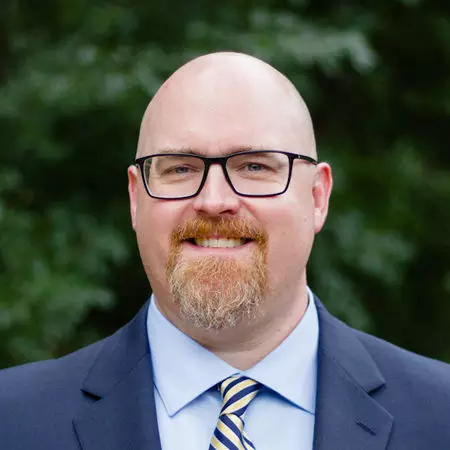 Affiliate Professor
Bioethics
Executive Director of The Center for Bioethics & Human Dignity (CBHD)
MBA, Louisiana Tech University
MA, Trinity International University
MA, Fuller Theological Seminary in Pasadena
PhD, Fuller Theological Seminary in Pasadena
Dr. Eppinette has a decade and a half of experience in the field of bioethics, including serving CBHD previously, from 2002-2007.

He holds a PhD in Theology with concentrations in Christian Ethics and Theology & Culture from the Center for Advanced Theological Studies at Fuller Theological Seminary in Pasadena, California, where he also earned an MA in Theology. He is a 2004 graduate of the MA Bioethics program at Trinity International University, and he has an MBA with concentrations in Quantitative Analysis and Information Systems from Louisiana Tech University. His undergraduate degree is in Business Management and Administration from Louisiana State University Shreveport.
As an MBA student, Matthew worked on research in the areas of diffusion of innovation and expert systems. He then worked in information technology in the wholesale sporting goods and pharmaceutical industries before returning to graduate school to study bioethics.
In his first tenure at CBHD, he served in a variety of capacities including Director of Research & Analysis and Assistant Director. From CBHD, he joined Americans United for Life as Director of Communications. When he moved to California to attend Fuller, Matthew joined the Center for Bioethics and Culture (CBC) where he served as New Media Manager and Executive Director from 2009-2018.
During his time at the CBC, he co-wrote and co-produced six documentary films addressing bioethics issues. Three of the films were Official Film Festival Selections, and one was awarded Best Documentary at the California Independent Film Festival.
Dr. Eppinette's current research interests include transhumanism, Alasdair MacIntyre's ethics and epistemology, and the intersection of fiction, film, and other areas of culture, particularly popular culture, that raise or address bioethics issues.
Matthew and his wife Ginger currently reside in suburban Chicago.
Matthew Eppinette, "Review: Michael S. Burdett, Eschatology and the Technological Future," Themelios, Vol. 42, No. 1 (April 2017): 193-195.
Matthew Eppinette, "Future Tech: Ethical Issues in the Pipeline,"in Defending Life 2009, Proven Strategies for a Pro-Life America, eds. Denise Burke et al. (Chicago: Americans United for Life, 2009).
Joe Carter and Matthew Eppinette, "Blogging and Bioethics," in The New Media Frontier: Blogging, Vlogging, and Podcasting for Christ, eds. John Mark N. Reynolds and Roger N. Overton (Wheaton, IL: Crossway, 2008).
Matthew Eppinette and Terence Armentano, "Beginner's Toolbox Part II: Even Newer New Media—Podcasting, Video Casting, and More," in The New Media Frontier: Blogging, Vlogging, and Podcasting for Christ, eds. John Mark N. Reynolds and Roger N. Overton (Wheaton, IL: Crossway, 2008).
Matthew Eppinette, "Human 2.0: Transhumanism as a Cultural Trend," in Everyday Theology: How to Read Texts and Interpret Trends, eds. Kevin J. Vanhoozer, Charles A. Anderson, and Michael J. Sleasman (Grand Rapids, MI: Baker Academic, 2007).
Matthew Eppinette and Andrew Fergusson, "Human Dignity: Still Defying Devaluation" (Guest Commentary), Ethics & Medicine: An International Journal of Bioethics 22, no. 1 (Spring 2006):5-7.
Matt Eppinette, Anthony Inman, and Roger Pick, "Expert Systems and the Implementation of Quality Customer Service,"Industrial Management and Data Systems, 2, 1997.
Affiliations & Achievements
Evangelical Theological Society
The Society of Biblical Literature
The Institute for Biblical Research