FORMAT
Residential | Remote
The Master's in Theological Studies is our most flexible program both in focus and delivery method. Because the MA/TS is so flexible, who you are and what you do determines where this degree will take you. This program relates the broad field of theological studies to the work of the church, with plenty of opportunities to focus on particular subject areas of interest. It can be completed remotely, at extension sites, or on our Deerfield campus.
If you are thinking about pursuing an MDiv, starting with the MA/TS could be the right place to start. You can decide later to transfer to the MDiv or after completing it apply up to 21 credits towards an MDiv at Trinity.
Our desire is to make a TEDS education accessible to all—at the same time maintaining our commitment to community building in a face-to-face context. We continue to work to create delivery options and plans that address the needs of program students unable to enroll in regular semester-length daytime courses.
View Extension Sites >>
"As a Young Life Regional Director, I want to encourage all of our Young Life staff to continue their theological studies. Not only do we grow personally in our knowledge and understanding of God, but the coursework undoubtedly helps our ministries in which we serve! Also, the MATS degree is really attainable after completing the first 2 years of Young Life training requirements. I loved the online class format because everything was laid out clearly in terms of expectations and easy to navigate. I think for most of our full-time staff taking an extra class a semester is NOT too much to ask on top of the rigors of Young Life staff, and I would encourage all staff to look into TEDS!"
Trinity has been entrusted with the Gospel since 1897, and every day we are called to live with purpose. Our purpose as a divinity school is to know the Gospel, live the Gospel and make the Gospel known. In today's ever-changing culture, Trinity immerses students in a community of biblical orthodoxy and practical living. The Trinity faculty is among the most widely published in evangelical academia and has deeply influenced the leaders shaping the present and future of evangelical Christianity across the globe.
Experience a classroom setting like none other. At Trinity, you will study under leading theologians, experts, and renowned authors in their specific field. Our professors will not only teach you but invest in your life.
Experience a classroom setting like none other. At Trinity, you will study under leading theologians, experts, and renowned authors in their specific field. Our professors will not only teach you but invest in your life.
"Over 80% of our MATS students come to the program with significant part-time or full-time ministry experience. Now, the ministry has this unique ability to expose our weaknesses and shortcomings quickly and efficiently. This is why we empower our MATS students to use their programs to address areas in need of further growth and develop their skills and expertise in the contexts of their ongoing ministries. They already know what they need and what skills and knowledge they would like to obtain. This is where we as faculty-practitioners come alongside the student-practitioners and assist with wise counsel and theological education, and spiritual formation. As a result, our MA/TS students and graduates serve successfully in all types of church and parachurch settings throughout the US and overseas."
Did you know that nearly 95% of our students receive some form of financial aid? At Trinity we offer scholarships, grants, rebates, and other aid options to help pay for the cost of schooling. Learn more about what is available below or by contacting the Financial Aid Office at
[email protected]
In addition to the requirements for general admission, you'll need the following:
A baccalaureate degree, or the educational equivalent, from a recognized accredited institution. In some cases, admission with deficiencies is possible with fulfillment of those deficiencies at Trinity.
A minimum GPA of 2.5 on a 4.0 scale. However, GPA isn't always an accurate indication of a student's abilities, so those with a lower GPA are encouraged to talk to an admissions counselor. Scores from the Graduate Record Exam (GRE) or the Miller Analogies Test (MAT) are required if your GPA is less than 2.5.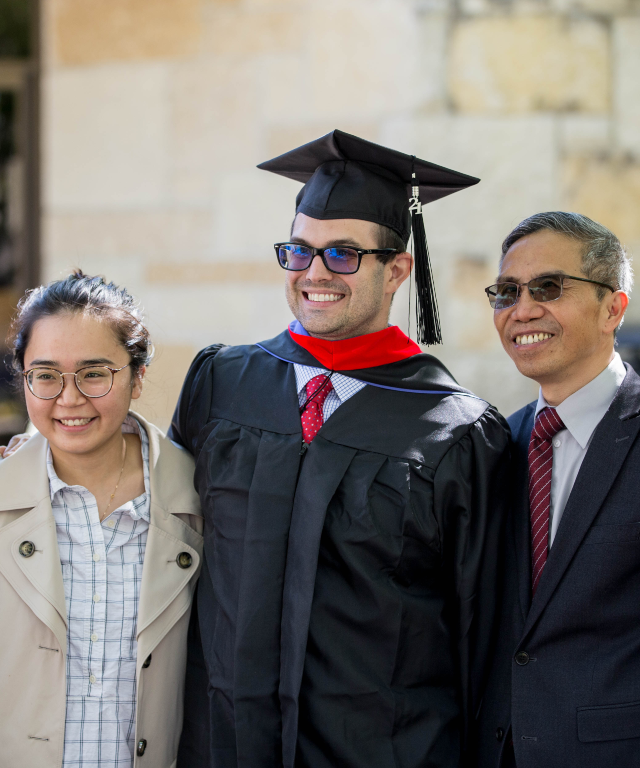 Biblical Studies: 8-12 hours
Recommended
Introduction to the Old Testament
Introduction to the New Testament
Biblical and Systematic Theology Core: 9 hours
Biblical Theology and Interpretation
Theology I: The God of the Gospel
Theology II: The Gospel of God
Historical and Global Studies: 0-3 hours
History of Christianity I
American Church History
Understanding Social and cultural Contexts of Ministry
History of Missions in the Modern World
Electives: 11-14 hours
Combining unrivaled academic rigor with a wholehearted commitment to gospel fidelity and an abundance of flexible options, TEDS offers a theological education that equips you to serve Christ with wisdom and grace, in truth and love.