FORMAT
Residential/Modular
Whether you are preparing for a career in healthcare, science, law, church ministry, education, or advocacy, the MA in Bioethics will provide the bioethical understanding and Christian foundation you need to approach your work with skill and spiritual sensitivity. You will have the opportunity to network with other professionals in class and during our annual bioethics conference, where you can explore the variety of disciplines that intersect with bioethics.
The MA in Bioethics is designed for recent college graduates and working professionals who desire a foundation in bioethics for their studies, jobs, and public engagement. Healthcare professionals, scientists, lawyers, clergy, and many others including those working in nonprofit organizations will benefit from this flexible 36-semester-hour program, well-suited to those with heavy professional responsibilities. Individuals preparing for an academic career will develop a strong background in bioethics for active, relevant participation in related college or university fields.
Coursework in the Bioethics program typically addresses such fields as medicine, nursing, biotechnology, law, public policy, international human rights, theology, philosophy, economics, education, technology, and media studies among others. Classes will focus on integrative thought, combining cutting edge research with deep spiritual insight, and students have the flexibility to emphasize any of the above fields. Trinity can offer guided research courses and capstones in any of these areas to supplement other required and elective courses.
"My Masters in Bioethics from Trinity gave me critical knowledge that enabled me to do hundreds of media interviews each year, train healthcare professionals, write for publications, and affect public policy decisions at the state and federal levels"
Trinity has been entrusted with the Gospel since 1897, and every day we are called to live with purpose. Our purpose as a divinity school is to know the Gospel, live the Gospel and make the Gospel known. In today's ever-changing culture, Trinity immerses students in a community of biblical orthodoxy and practical living. The Trinity faculty is among the most widely published in evangelical academia and has deeply influenced the leaders shaping the present and future of evangelical Christianity across the globe.
Not ready to jump into the full program? Check out our two new certificate options. Should you choose later on to further your education in the MA in Bioethics program, the courses you take for the certificate will be counted fully toward your degree.
Experience a classroom setting like none other. At Trinity, you will study under leading theologians, experts, and renowned authors in their specific field. Our professors will not only teach you but invest in your life.
"Some of the most pressing ethical concerns of our day are arising alongside developments in medicine, science, and technology. Now more than ever, we need thought leaders and professionals equipped with the bioethical tools and firm biblical convictions necessary to engage these vital issues from a distinctly Christian perspective. That is what guides our approach to our bioethics program and graduate certificates."
Many of our students live around the world and are committed to jobs or family situations there that make relocating impossible. With them in mind, the program is available several flexible delivery formats designed for accessibility: residential, modular, hybrid, and online.
The residential option includes opportunities for in-person interacting, relationship-building, and networking with students and faculty members, as well as access to various bioethics-related opportunities on campus outside the classroom. Examples include a wide range of course offerings, participation in special bioethics events, and involvement in the work of The Center for Bioethics & Human Dignity (CBHD), a world-class Christian bioethics center engaged in research and cultural-engagement initiatives.
The modular option allows students to take all of their modular courses in-person by traveling to campus just for the days when their classes meet. Modular classes typically meet for 2-3 days once or twice during each session (Fall, Spring, or Summer). Two required courses are taken on campus in conjunction with the mid-summer CBHD conference, one during each of two summers. Students may replace as many non-summer modular courses as they wish with hybrid and/or online versions of those courses.
The hybrid option allows remote students to take advantage of live courses offered in the residential and modular formats through remote synchronous access through online streaming.
The online* option involves taking up to six of the eight required courses in an online format, and requires as few as 1 or 2 trips to our Deerfield, Illinois campus to complete a week-long course or two in the summer. Furthermore, no additional trips to campus are necessary for the elective courses. Elective courses can be taken online, or by mentored independent study, or in conjunction with the mid-summer CBHD conference—though residential, modular, and hybrid elective courses are also available. Online students may miss opportunities to interact with classmates and professors outside the classroom and other bioethics-related opportunities on campus, but they are able to pursue the program with very few trips to campus.
Did you know that nearly 95% of our students receive some form of financial aid? At Trinity we offer scholarships, grants, rebates, and other aid options to help pay for the cost of schooling. Learn more about what is available below or by contacting the Financial Aid Office at
[email protected]
In addition to the requirements for general admission, you'll need the following:
Submit a personal statement of the applicant's past and present spiritual life. This may include one's Christian conversion and/or other significant spiritual events and formative influences in one's life.
Submit a personal statement outlining the applicant's motivation to study bioethics at Trinity Evangelical Divinity School, an evangelical Christian school, and his or her future goals.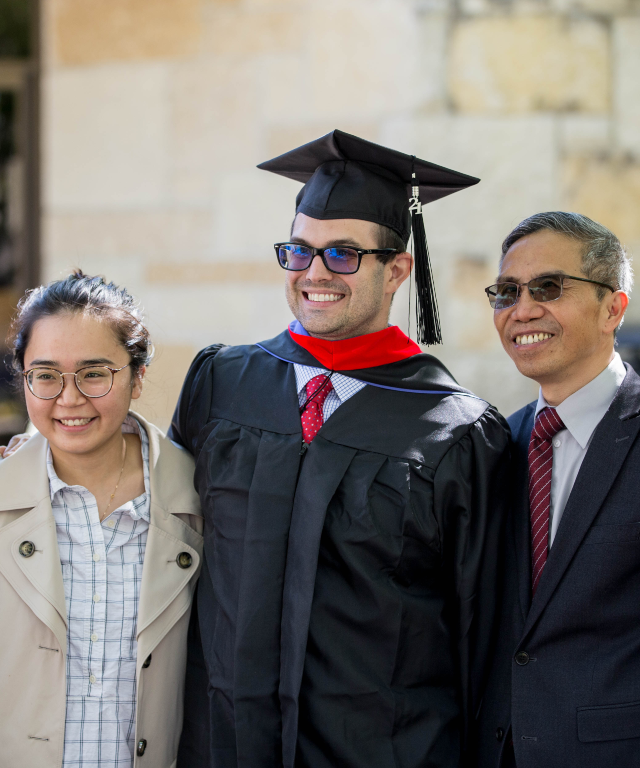 Foundational Courses: 9 hours
Biblical Theology and Interpretation
Foundation for Cultural Engagement in Bioethics
Theological Bioethics and Contemporary Alternatives
Required Courses: 17-18 hours
The Clinical Context
Research Ethics
Clinical Issues in Bioethics
The Public Policy Context
Bioethics Electives: 5-9 hours
The Right to Life & the Law
Advanced Clinical Ethics
Bioethics Practicum
Combining unrivaled academic rigor with a wholehearted commitment to gospel fidelity and an abundance of flexible options, TEDS offers a theological education that equips you to serve Christ with wisdom and grace, in truth and love.