Chaplaincy and Ministry Care
A Master's in Chaplaincy and Ministry Care provides you with the tools you need to be a front-line spiritual caretaker. Chaplains serve in hospitals, retirement homes, prisons, hospice facilities, fire and police services, sports organizations, and corporate settings. The Master's in Chaplaincy and Ministry Care is a standalone degree that focuses on serving the local church or in public settings. Many of our graduates now serve in healthcare chaplaincy roles. The degree will emphasize direct, interpersonal communication, and face-to-face engagement with those seeking spiritual care. Trinity will equip you with the knowledge you need for professional chaplaincy and deepen your relationship with God through spiritual development. Answer the call to chaplaincy today.
Our chaplaincy program can complement other TEDS programs such as Master of Arts/Theological Studies, Master of Arts/Intercultural Studies, Master of Arts/Mental Health Counseling, or Master of Divinity. If you are seeking a military chaplaincy program, Trinity has a unique relationship with local military bases, including Naval Station Great Lakes Headquarters. Our faculty will work closely with you to coordinate the chaplaincy program with the Master of Divinity required by the military. The program's curriculum will prepare you for your future vocation.
"Chaplaincy is a specialized ministry of increasing relevance in our religiously plural world. It involves taking words of hope and grace outside the boundaries of the church to those in crisis. There's nothing like providing spiritual guidance and pastoral care to those who might otherwise never darken the door of our churches. Ministry in secular, pluralistic institutions presents a myriad of unique challenges, yet bringing pastoral care, compassion, and Christian presence to people in need makes it especially satisfying. The TEDS MA in Chaplaincy and Ministry Care looks to provide the equipping necessary to take up this powerful calling."
Trinity has been entrusted with the Gospel since 1897, and every day we are called to live with purpose. Our purpose as a divinity school is to know the Gospel, live the Gospel and make the Gospel known. In today's ever-changing culture, Trinity immerses students in a community of biblical orthodoxy and practical living. The Trinity faculty is among the most widely published in evangelical academia and has deeply influenced the leaders shaping the present and future of evangelical Christianity across the globe.
Trinity is a place where you will learn how to serve the church and how to academically engage the world around you. Throughout the year we host some of the brightest minds in modern academics allowing you to learn from experts in their field.
Experience a classroom setting like none other. At Trinity, you will study under leading theologians, experts, and renowned authors in their specific field. Our professors will not only teach you but invest in your life.
"Life finds ways to remind us that our developmental journey is profoundly spiritual. Chaplains step in, as clergy to the public in a pluralist age, to dialogue and guide that journey. Chaplains who cherish a Gospel-centered orientation can realize a calling to fulfill this unique ministry. Our TEDS MA in Chaplaincy and Ministry Care offers perspectives, skills, and the theological grounding to do Chaplaincy well."
Did you know that nearly 95% of our students receive some form of financial aid? At Trinity we offer scholarships, grants, rebates, and other aid options to help pay for the cost of schooling. Learn more about what is available below or by contacting the Financial Aid Office at
[email protected]
In addition to the requirements for general admission, you'll need the following:
An undergraduate major that prepares you for the program.
Undergraduate GPA of 3.0 on a 4.0 scale
Scores from the Graduate Record Exam (GRE) or Miller Analogies Test (MAT) may be required if your GPA is less than 3.0 or if the Admissions Office requests them.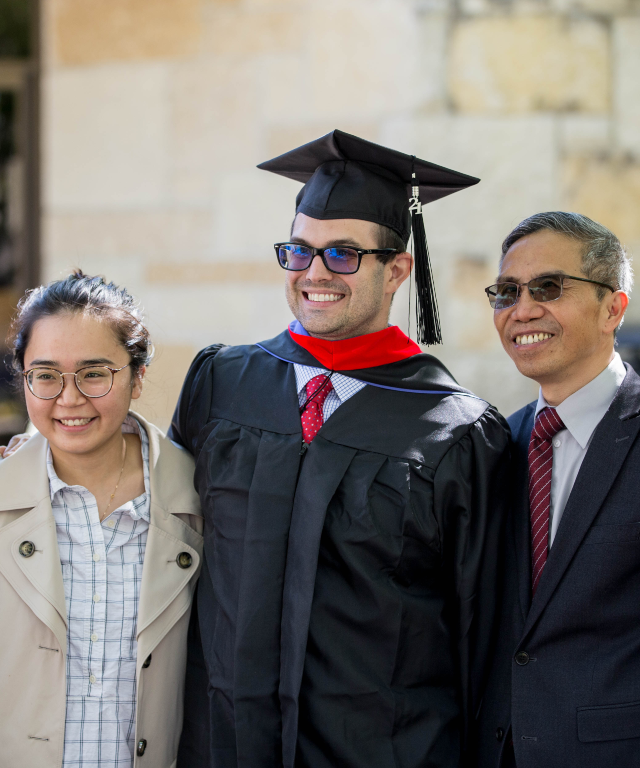 Biblical and Theological Studies: 12 hours
Biblical Theology and Interpretation
Theology I: The God of the Gospel
Counseling and Theological Worldview
Pastoral Duties and Care: 7 hours
Theology and Methodology of Biblical Preaching
Introduction to Chaplain Ministries
Christian Worship and Pastoral Practices
Formation Group and capstone Counseling: 2 hours
Formation Group (2 Semesters)
Counseling Capstone (Community-based clinical pastoral education or fieldwork project)
Electives: 10-12 hours
Combining unrivaled academic rigor with a wholehearted commitment to gospel fidelity and an abundance of flexible options, TEDS offers a theological education that equips you to serve Christ with wisdom and grace, in truth and love.