Welcome from the President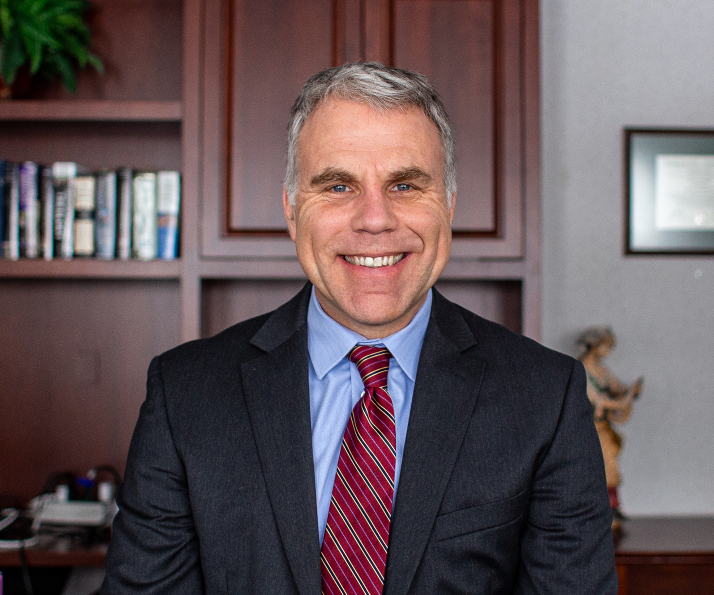 I'm honored to be the president of this fine institution that not only provides such a breadth of educational opportunity but also a deep, long-standing commitment to Scripture and helping students live a gospel-centered life. For decades, Trinity's distinctive voice has been a gift to global evangelicalism. It's my privilege to amplify that voice in a clamorous world that—now more than ever—needs to encounter the Word of God afresh in every area of life. And it's my vision that Trinity accomplishes this through worshiping in faithfulness, mentoring in hope, and building bridges in love. We are living in uncertain times, and the past two years have been the most challenging I've ever experienced. Nevertheless, the dedication of Trinity's students, staff, and faculty has been remarkable, adjusting to an ever-changing "normal" and seeking out ways to serve one another and our community at large. I give thanks for the Trinity family and the Lord's sustaining grace. As we continue to prayerfully implement the wisest next steps on our journey facing a global pandemic into this Spring 2022 semester and beyond , one thing remains constant: our mission to "educate men and women to engage in God's redemptive work in the world by cultivating academic excellence, Christian faithfulness, and lifelong learning."
Our academic programs are designed to not only cultivate expertise in the fundamentals of various industries and jobs (from business, graphic design or communication to music, law, teaching, or full-time ministry) but to do so always with an eye on the integration of faith and work, to walk alongside our students as they learn to stand in the long line of Christian women and men who take seriously their vocations as callings. Spiritual formation is equally important to academic and professional pursuits. Our desire, then, is to develop and equip leaders who can respond ethically and with sensitivity to the demands of a globalized, knowledge-based society, for the glory of God.
As we lean into what it means to be a Christian university forming the lives of those who have come to us seeking to fulfill their educational goals, please continue to pray for our students, faculty, and leadership. I invite you to fully explore the blessings of being part of this enriching and welcoming community on our website and with a visit to campus!
In Christ,

Nicholas Perrin, PhD
President
Trinity International University
LATEST BOOK
In Jesus the Priest, Nicholas Perrin offers a fresh paradigm for understanding the historical Jesus. He challenges the "standard reading" of classic texts (including the Parable of the Sower, the Beatitudes, and the Lord's Prayer) to argue that Jesus primarily identified himself not as sage or prophet but as Israel's eschatological high priest. As priest, Jesus claims to reveal God's unchanging character through his own person and he announces the impending climax of God's eschatological purpose, constituted by the arrival of the heavenly temple on earth. Jesus the Priestidentifies Jesus' priesthood as a mediating understanding that sheds crucial light on the kingdom of God.
Perrin's insightful theological contribution synthesizes the best in scholarly reconstructions of Jesus' life and teaching. It will be of interest to professors and students in New Testament courses, scholars, and anyone interested in theologically engaged historical-Jesus study.