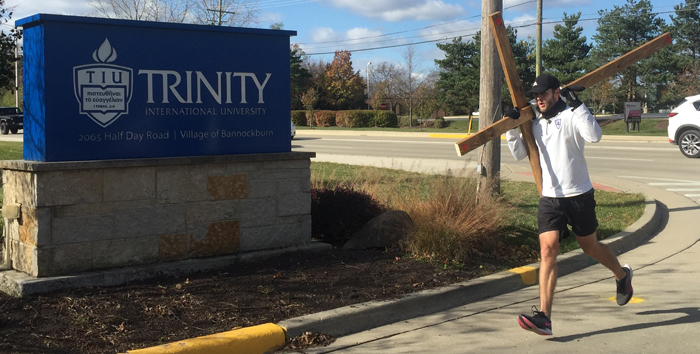 On Sunday, November 1, 2020, I pushed those limits again.
In my opinion, what makes Trinity a special place is the Christ-centered community that's fostered through the academic environment, athletic programs, and other activities on campus.
This year, 2020 is taking a toll on countless people and organizations. Unfortunately, Trinity is no exception. During these unprecedented times, I remember the campus community that played such a large role in my personal and spiritual development and my hope was to give something back.
At 5:00 a.m. on Sunday, November 1st, I began a Cross Run from my hometown of Darien, Illinois to Trinity's campus. My initial goal was to run 36 miles and raise $2,000. Participating in a Cross Run meant that I would run the distance with an actual cross on my back. To put this in perspective, a marathon is 26.2 miles. Training for what I anticipated to be a grueling run, my goal was to inspire others to support the TIU community, which had been impacted by COVID-19. Now more than ever, I felt we needed to come together.
Instead I pushed myself even harder and ended the run at around 1:15 p.m. arriving at my final destination, the TIU soccer field. I was surprised to be greeted by friends, my former soccer coach, Patrick Guillian, and President Perrin, who thanked me for my support of Trinity International University. All together I ran 40.12 miles and raised a total of $3,700!
As members of the Trinity alumni family, I encourage you to consider supporting Trinity during these challenging times by making a gift to their COVID Relief Fund. This fund helps provide Trinity students with affordable education and a thriving, flexible environment where they can be mentored in the hope of Christ while growing in knowledge.  I know how my time at TIU impacted me and I pray that you'll join with us in helping TIU continue to impact others.
Stay safe and healthy!
"If anyone would come after me, let him deny himself and take up his cross and follow me" —Matthew 16:24