The Trinity Journal is a theological journal published twice each year by the faculty of Trinity Evangelical Divinity School. Since 1980, the Trinity Journal has served scholarship and the church worldwide by offering thought-provoking essays and reviews to libraries, pastors, scholars, missionaries, and interested Christian lay people. Articles deal with classic biblical, historical, and theological issues, many of pastoral importance and most of timeless significance to Christians. Authors are aware of the most recent research, and write for fellow scholars and informed Christians alike who want to keep their theological basis for ministry fresh and growing.
AUTHORS
Our submission service is still online, and can be accessed at the following link.
SUBSCRIPTIONS
Trinity Journal is a biannual, peer-reviewed academic journal published by Trinity Evangelical Divinity School. Year-long subscriptions costs begin at $14 for students and $20 for non-students. Subscriptions can be shipped anywhere around the world. All questions can be directed to [email protected].
---
Trinity Magazine
Trinity Magazine exists to tell Trinity's stories, to serve Trinity alumni and friends, and to connect the Trinity community. Trinity Magazine comes out seasonally and is available to all alumni, staff, students and anyone else who wishes to receive a copy. The magazine features campus news, alumni and faculty updates, as well as academic and other news. Subscribers will also find feature articles on current issues affecting the church and the worldwide community of believers.
To contact the editor, email [email protected] or call 847.945.8800. To send alumni news items or to change your mailing address, email [email protected] or call 877.339.1416.
---
Foreword: A TEDS Faculty Podcast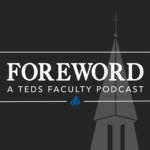 Foreword is a fortnightly podcast that invites listeners into the mission of TEDS through conversations with faculty, staff, and guests.  The vision of Foreword is to showcase the expertise and passion that characterizes TEDS. Foreword was launched in January 2020 and is hosted by Drs. Michelle Knight (@mlizknight), Josh Jipp (@TheRealJoshJipp), Madison Pierce (@MadisonPierce), and James Arcadi (@JamesArcadi). Our format is primarily interviews with guests, but some episodes feature conversations among the hosts.
Contact Foreword:
Twitter—@forewordpodcast
Facebook—@forewordpodcast
Email—[email protected]
---
Other Publications
To access our university magazine, journal, and other current and archived publications, please view a complete list of Trinity publications.