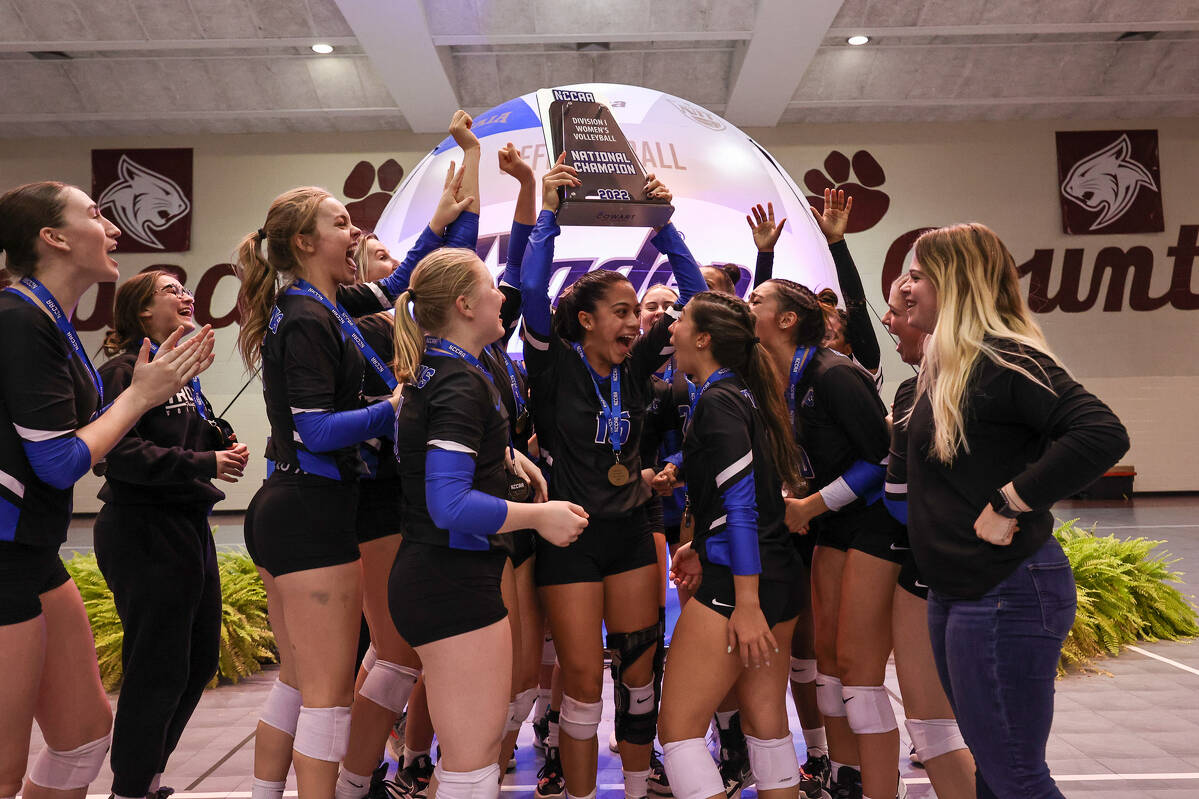 From the start we could tell that this year's TIU Trojan women's volleyball team would be special after their national tournament appearance in 2021 and beginning the 2022 season with a 5-1 start, including a run of sweeps in their first tournament weekend. 
"We returned quite a few starters from the year prior and with our seniors and leaders setting the tone and we knew we had a chance to be exceptional." said Coach Ward when asked about the team. "Our incoming players bought in quickly and we had a sense of camaraderie that was so fun to be around. We were more mature and developed experiences together throughout the year that made us stronger as a group."
This maturity and skill was seen throughout the season as they took on tough non-conference opponents, won the NCCAA North Central Region, and picked up a number of athletic and academic awards along the way.
NCCAA Tournament
The TIU Trojans came into the NCCAA National Tournament as the number two seed after their season performance and the NCCAA North Central Region Championship in mid-November. This was the Trojan's eighth trip to the NCCAA tournament, four of which were in the last five years only missing the 2020 season due to scheduling issues during the COVID-19 season.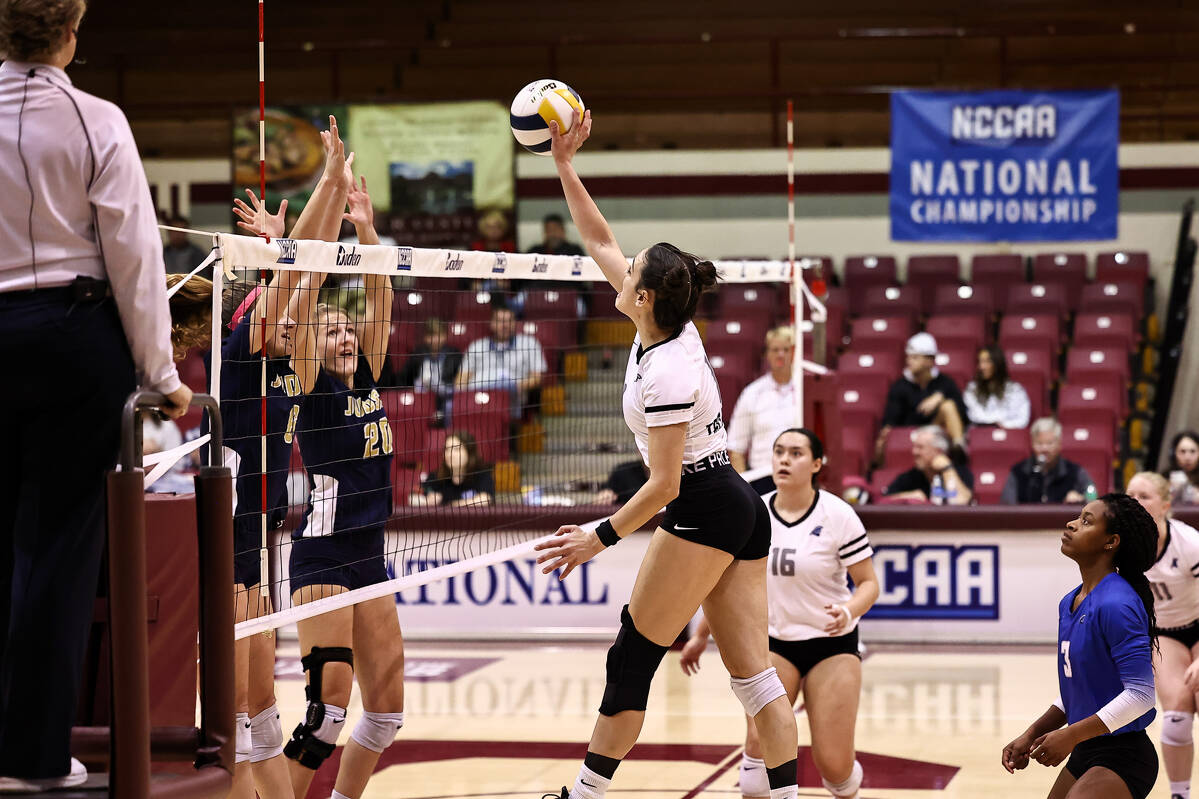 "We knew with the athletes we had, we weren't tall but we were quick and explosive – so we made sure to be consistent with our agility and work on our conditioning, and we made sure our defense was disciplined and adaptable," said Luke Ward. "We had so much depth that we were able to compete with each other in practice and give options when it came to strategizing in game. 
This strategy came to bear results right away as the Trojans took on Mid-America Christian University and College of the Ozarks for the first day of pool play matches, winning each match 3-1 and 3-0 respectively. For the second time in Trojan history, the TIU volleyball team advanced to the semi-finals.
In the semi-final match they met conference opponent Judson for the third time this season and emerged victorious in a 3-1 match, solidifying this teams' names in our history books. For the first time in program history the Trojans were competing for the championship and facing a worthy opponent, Columbia International University.
"Through everyone's constant communication, their willingness to work hard, and the trust we had in each other, I was able to run the offense really seamlessly. I think that was a large factor in our success," said senior setter Anna Skrzypchak. "I never doubted that we were going to do well at the national level, especially with the chemistry that we had built and all of the hard and historic things we had already accomplished this season."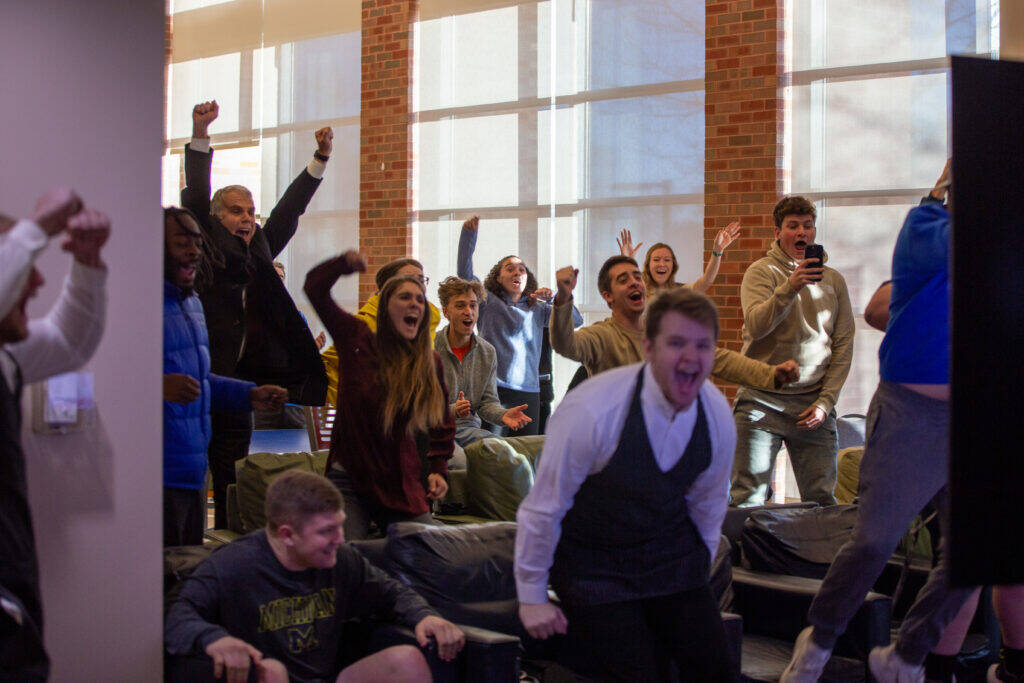 In a grueling five match set against Columbia International University, the Trojans stuck to their strategy, continuing to trust one another and staying disciplined in their play. Through the incredible plays made by Jaylyn Freeman, Brianna Torres, Lana Vujosevic, Theresa Romero, and Anna Skrzypchak as well as the key moments and encouragement from the rest of the team, the Trojans ended the fifth set with a kill making them the 2022 NCCAA National Champions.
Celebrations of this win were explosive on the court as well as back home in Deerfield, as students and staff gathered to watch the game in Waybright Center.
Team Awards
Beyond the NCCAA National Championship banner and trophy, three student-athletes made the All-Tournament team for their standout performances, Jaylyn Freeman, Brianna Torres and Lana Vujosevic.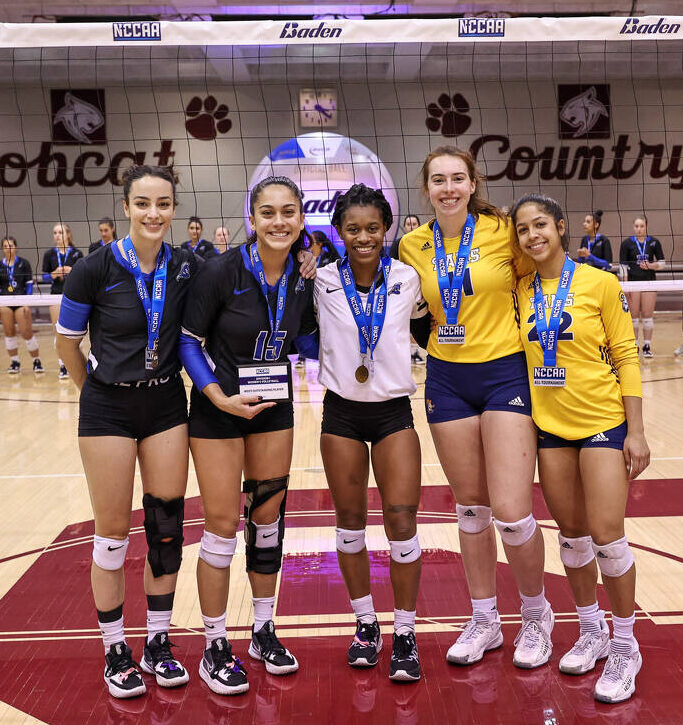 Libero, Jaylyn Freeman had 112 digs over the five matches, averaging seven per set, and she earned a career high 34 digs in the opening game against Mid-America Christian University.
Outside hitter Lana Vujosevic averaged a double-double each match, with her best performances including 19 kills against Columbia International and 23 digs in the opener against MACU.
Outside hitter, Brianna Torres slammed 67 kills and grabbed 62 digs throughout the tournament, averaging 4 kills per set and 3.785 digs per set. Her tournament highs consisted of 20 kills against MACU and 18 digs against CIU. Torres was also named Most Outstanding Tournament Player and First Team All-American.
"I believe a big part that made it so easy as well is having personal relationships off the court that translated to on the court. I have played volleyball for many years with many different teams, but this one in particular is so special to me and made this season everything and so much more," said Freeman. Freeman's contributions to the team have been invaluable and she was recognized as Libero of the Year for the CCAC.
Throughout the tournament, setter Anna Skrzypchak played a large role in the team's success as she averaged 50 assists per match. She was also recognized by the conference as she received the First Team All-Conference recognition. 
Off the court, this team excelled in the classroom as nine players were named Scholar-Athlete by NAIA and NCCAA for having a 3.4 GPA or higher. Hattie Black, Bethany DiSilvestro, Madison Feagans, Desirae Pisano, Anna Skrzypchak, Brianna Torres, Lana Vujosevic, Nadia Wheeler, and Madison Williams were all honored.
All-American Athlete:
One player in particular has been impactful this year— fifth year senior and outside hitter Brianna Torres. Torres has served as a captain and leader for the past 3 seasons and this year she's broken five school records including most kills in a career (2,136), attack attempts (6,379), matches played (176), points (2,428.5), and sets played (631). 
"Nothing was done individually, everyone on this team plays a huge part in building the strong culture we have and team dynamic, ultimately all those things show on the court. As a leader I believe my role toward the end of the season was to show the immense trust I had in each and every one of my teammates, and coaches. It's hard to think of anything that I did individually to lead this team to victory, my best answer is just constantly thinking of ways to be a better teammate and leader and not focusing on myself but on what needs to be done as a whole to better to achieve our goal."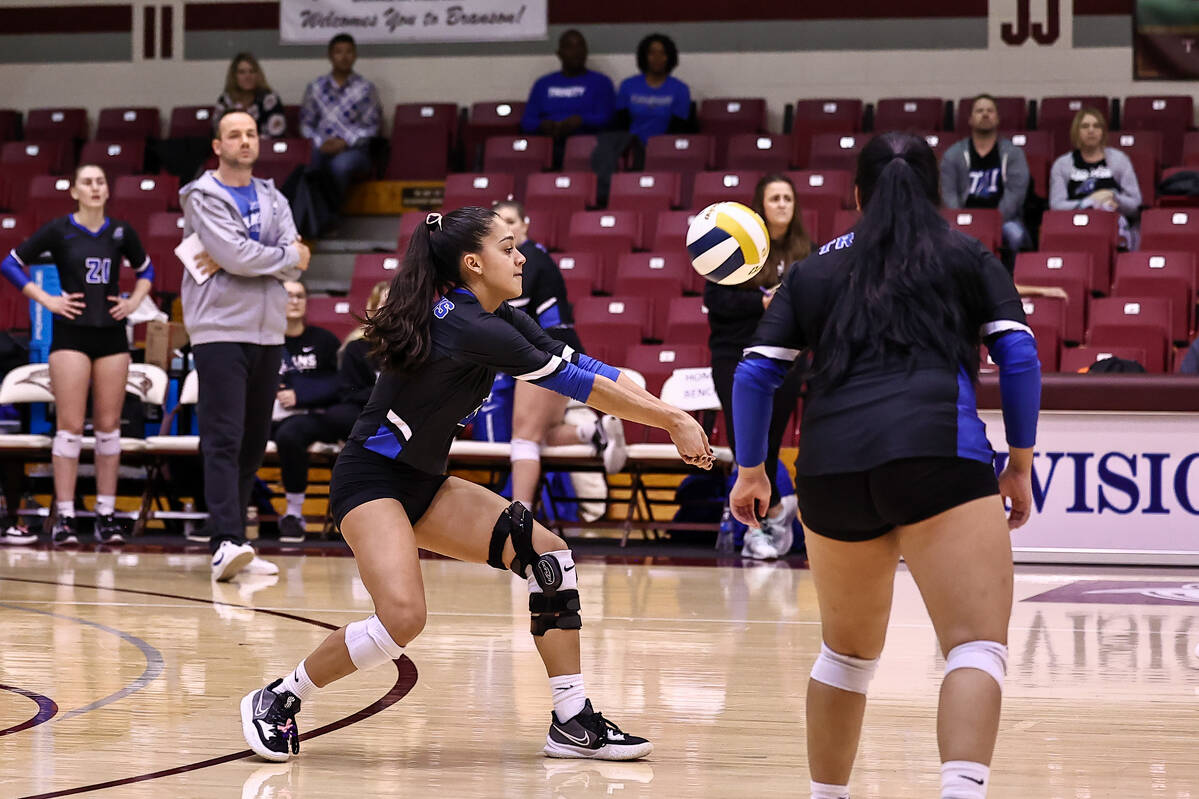 This season alone, Torres competed in 143 sets across all 39 matches this season, leading TIU with 584 kills (third highest in TIU history, single season), averaging 4.08 kills per set (second highest in TIU history, single season). She took second on the team for digs with 431 and fourth for service aces with 33.  Commending Torres' talent and achievements this season, the NAIA named her Third Team All American, making her the second TIU volleyball player to receive this recognition.
Torres has truly been a powerful player as she adds the NAIA Third Team All American Award to her list of accolades including CCAC First Team All-Conference (4x), NCCAA All-Region (3x), CCAC Attacker of the Week (4x), NCCAA Student-Athlete of the Week (4x), AVCA All-Region (3x), NCCAA Most Outstanding Tournament Player, and CCAC Player of the Year.
Beyond her athletic achievements Torres is a stellar student who earned her bachelor's degree in Psychology and is working on her Masters in Mental Health Counseling at TEDS.
Dynamic and Impactful Coaches
Like all great teams, leadership can make a big difference. For TIU Volleyball, the staff consists of a compassionate, humble, and dynamic coaching duo which led this team to victory. 
Coach Luke Ward has been coaching at TIU since May of 2015 and has brought the team from just three wins in 2015 to 30 wins in this year making his overall record 149-133. More than that he has engineered an incredible team culture within the Trojan program in which his student-athletes feel heard, valued, and empowered to pursue excellence. For this and more, Coach Ward was recognized as the AVCA National Head Coach of the Year for the NCCAA.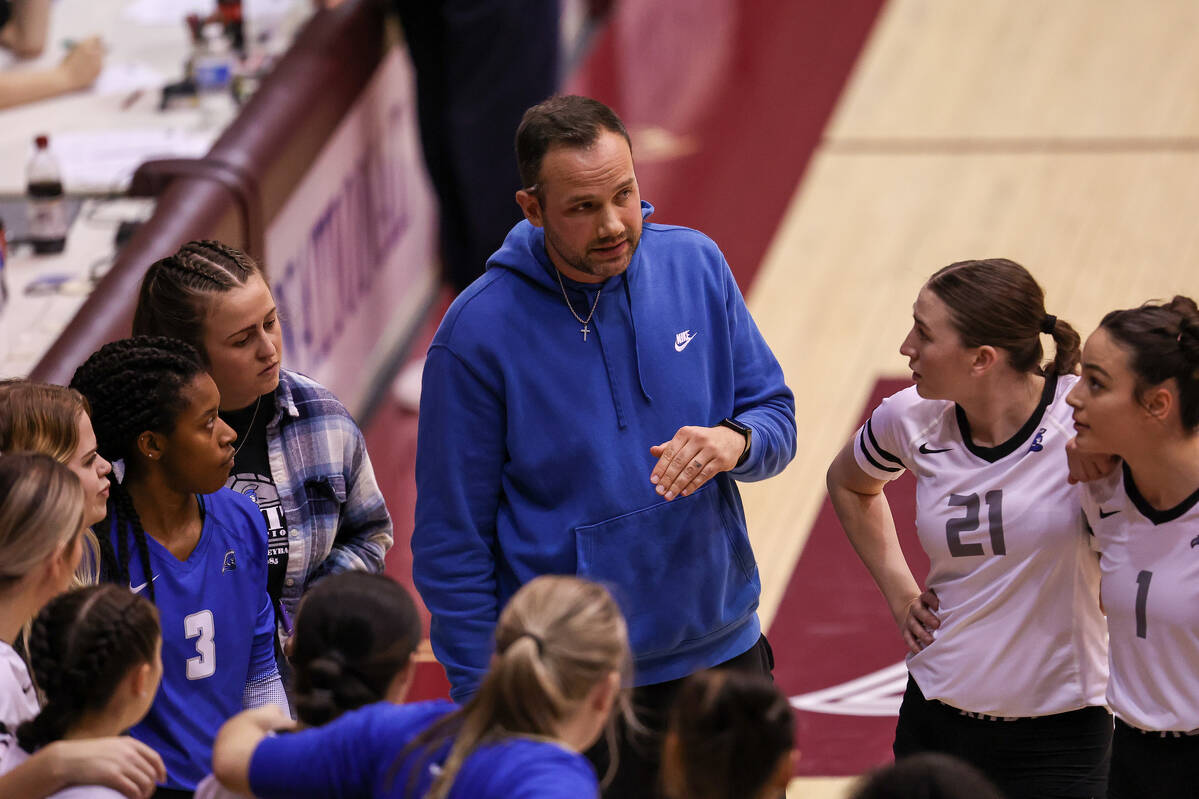 Meanwhile, Assistant Coach Kennedy Mang was recognized by the AVCA Mideast Region and the CCAC for her impact and was awarded the honors of Assistant Coach of the Year from both organizations. Mang joined the TIU coaching staff in summer of 2021 and has jumped into key roles in supporting both the men's and women's programs on and off the court, as well as with miscellaneous administrative tasks as Coach Ward also serves as Acting Athletic Director. 
"I see this as an award for the program. I couldn't accomplish anything without an amazing team, athletic department, and mentor Luke Ward," said Mang "I'm extremely proud of this program and can't wait to see what we continue to build both in the men's and women's programs."
Celebrations
Our students welcomed back the team with congratulations after chapel and celebration rang throughout the hallways.
The village of Bannockburn demonstrated their support of our TIU Trojan athletes, by honoring each of the women's volleyball players at the Board of Trustees meeting. Frank Rothing, President of the Bannockburn Board of Trustees, presented each player with individual certificates of excellence.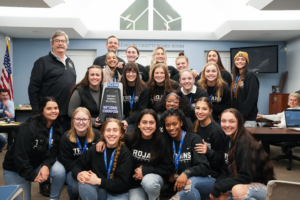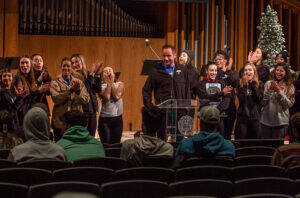 Next semester, the athletics department plans to honor the women's volleyball team with a banner raising ceremony in Van Dixhorn Arena during one of our home basketball contests.
With a number of records broken this season along with outstanding performances in the classroom, and volunteer outings throughout the year, this 2022 volleyball team has truly been exceptional. They have shown what it means to be a TIU Trojan athlete, not only through their athletic success, but through the ways they support one another, their humility, academic success, and care for the community. 
---
Photos courtesy of Flat Top Sports, TIU Marketing Communications, and TIU Athletic Department.