The Trinity International University Board of Regents unanimously selects Nicholas Perrin, an acclaimed educator, administrator, author and scholar, to become the 16th president of Trinity International University.
The new president will begin work immediately.
Perrin said he looks forward to joining the leadership team at TIU.
"Being appointed to the leadership of Trinity International University is an incredible honor," Perrin said. "I can still remember, as a young TEDS summer student in the late 1980s, coming to the Deerfield campus for the first time and falling in love with this special space dedicated to educating men and women for engagement in God's redemptive work."
Perrin continues: "For decades, TIU's distinctive voice has been a gift to global evangelicalism. I look forward to the challenge of amplifying that voice in a clamorous world that – now more than ever – needs to encounter the word of God afresh in every area of life."
A 10-member Presidential Search Committee recommended Perrin to the full TIU Board of Regents June 6, following a yearlong national search. The search committee included faculty, staff, regents and church leaders. The full Board of Regents interviewed Perrin during their June board meeting.
"After considerable input and discussion, our committee set out to find a candidate who is a faithful follower of Christ, is academically accomplished, is theologically grounded, is financially aware and is a proven leader," search committee chair Bill Kynes said. "We believe Dr. Nick Perrin fits that description, and we are very excited to present him to the Trinity community."
Perrin has served as the Franklin S. Dyrness Professor of Biblical Studies at Wheaton College. His academic specialties include Jesus and the Gospels, with special research in the Gospel of Thomas. His works in these areas, the early church and the New Testament, are widely praised in academic circles. Perrin joined the Wheaton faculty in 2005, and served as dean of Wheaton Graduate School (2012-16).
"His legacy of leadership at the Wheaton College Graduate School gives bright hope for the future of Trinity International University under his presidency," Wheaton president Philip Ryken said. "Nicholas Perrin is a world-class New Testament scholar, a gifted preacher, and a devoted husband and father."
Perrin has also pastored in various global contexts. Most recently, in addition to his work at Wheaton, he has served as transitional pastor at Faith Community Church in West Chicago, a position from which he is now stepping away. An ordained minister in the Presbyterian Church of America, Perrin has been approved for a transfer of ordination to the Evangelical Free Church of America (EFCA), with which TIU is affiliated.
From 2000–2003, he served as research assistant to N.T. Wright, the former Bishop of Durham in the Church of England and one of the world's most respected biblical scholars. Before that time, Perrin earned a Doctor of Philosophy in Biblical Studies from Marquette University. He also holds a Master of Divinity from Covenant Theological Seminary and a Bachelor of Arts in English literature from The Johns Hopkins University. He claims varying levels of competence in nine languages.
Perrin has written 47 scholarly articles and essays, as well as 14 books, including Thomas: The Other Gospel (Westminster John Knox, 2007) and Lost in Transmission: What We Can Know about the Words of Jesus (Thomas Nelson, 2008).  Recent book publications include Jesus the Priest (Baker Academic, 2018) and The Kingdom of God: A Biblical Theology (Zondervan, 2019).
Perrin came to faith in Jesus Christ during his college years, and was baptized at an EFCA church in Blairstown, New Jersey, where he says he was nurtured in his faith for eight years. He also served college ministries as a member of the staff at InterVarsity Christian Fellowship.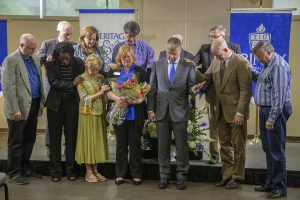 In addition to addressing personal Christian commitment and academic credentials, the search committee's written report to the full board also touched on Perrin's theological foundations, demonstrated fiscal responsibility, and vision.
With respect to theological conviction, they wrote, "He is firmly and deeply committed to evangelical essentials, but he has a broad evangelical spirit that can live with differences on secondary issues."
In 2010, Perrin and his wife Camie helped establish the Covenant Classical School in Naperville, Illinois, which now enrolls 133 students in kindergarten through eighth grade. Camie Perrin served as the school's first head of school. In his role as board chair, Perrin took well to the challenge of fundraising. "If you have a compelling vision and a clear story," he writes, "there's nothing more satisfying than bringing others into that story through the act of giving."
Search committee members told the full board that experience shows Perrin has the ability to help build a larger vision for TIU.
"We think he can help shape that vision and tell our story well," they wrote.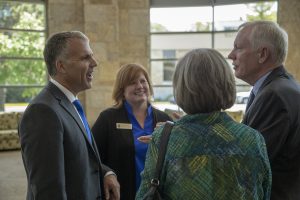 Board chair Neil Nyberg, who also served as an ex officio member of the search committee, said Perrin is uniquely qualified to lead Trinity.
"Dr. Perrin has special gifts, skills and experiences that have prepared him well to serve as Trinity's president," Nyberg said. "We're eager to see how God will use him to advance the work at Trinity."
David S. Dockery, the outgoing president, announced in 2018 that he would step away from the role after more than 23 years of service as a university president at two institutions.  The Trinity Board of Regents named Dockery University Chancellor.
"We're deeply grateful to Dr. Dockery for the lives he has impacted, the changes he has implemented and the legacy he has created and are honored that he has agreed to continue to serve Trinity as Chancellor under the direction of President Perrin," Nyberg said.
"Dr. Perrin is a multi-gifted leader with wonderful relational skills," Dockery said. "He has a genuine commitment to distinctive Christian higher education and theological education, and I will support, encourage, cheer for and pray for him."
The Perrins have been married for 26 years and are parents to two adult sons, Nathaniel and Luke.
Faculty and staff heard from search committee members and Perrin at an introduction event on campus June 7. The event was streamed live, allowing campuses in California and Florida to participate. An archived recording of the event is available.
Trinity International University is a comprehensive, national university affiliated with the Evangelical Free Church of America and located in Deerfield, Illinois, 25 miles north of Chicago. TIU educates men and women to engage in God's redemptive work in the world by cultivating academic excellence, Christian faithfulness and lifelong learning.