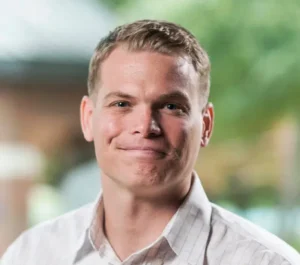 Trinity International University is pleased to announce that Mark Muha, EdD, has accepted the opportunity to serve as Vice President of Student Life, starting July 11. Muha brings more than 10 years experience in higher education and student development to the table.
"Trinity International University is a unique institution with unique values and strategic priorities," said President Nicholas Perrin. "We ended up saying 'No' to a lot of very promising candidates that our search firm brought to us. We did so because it was important for us not just to fill the role, but to identify that one individual who aligns with us missionally and theologically, while also bringing that requisite wisdom, experience, energy, sensitivity, and get-your-hands-dirty engagement. I believe at long last we have found that individual."
"I'm excited to step into this role because the reputation of the university is well-known as an institution pursuing academic rigor as it develops students for future ministry," Muha said. "Serving in Student Life matters to me because higher education is where so many students are faced with the question of what they are called to do and who they are called to become, and I'm blessed to be able to be a small part of answering both those questions through my work in spiritual formation and Christian community."
Muha believes that Christian higher education holds a unique place in society, "with pressure from all sides to conform to a specific platform or partisan views. I believe it is the challenge and opportunity to step into that unique tension and hold firm," he said, "not to a position that avoids conflict by refusing to engage, but to a shared commitment to the example we see in scripture of what it means to live out our faith."
Muha grew up in Minnesota but moved to Michigan to attend Cornerstone University, earning both his BS in Youth Ministry and Bible (2010) and MS in Management (2015). He went on to obtain a doctorate in education with an emphasis in organizational leadership and development from Cornerstone, graduating in April 2022. Although he anticipated a career in student ministry—he did a brief stint at Grand Rapids Theological Seminary in 2011—after a season of working as a resident assistant in college, he redirected his focus to pursue student development in the university setting. He served for six years as a resident director at Cornerstone before becoming director of community life there in 2017.
Under his leadership during that time, Muha brought a streamlined, simple approach to its campus housing process, cultivated a residence life ministry that united a campus of eight residence halls that functioned independently to work collaboratively, developed their new assistant resident director program to help young professionals thrive, and provided community care and support for specific student groups such as their commuter population, international students, and student leaders.
"I intend to bring to Trinity the same ethic of care for my staff that I cultivated at Cornerstone University over the years and to focus on the student experience through the programs, policies, and personnel we have in place," Muha said.
Additionally, Muha teaches as an adjunct professor in leadership and communications courses at Cornerstone. He is married to Joy, and, along with their daughter Harper, enjoys the outdoors, running, canoe camping, and exploring national parks.
"In welcoming Mark Muha to this campus," Perrin added, "the Trinity community and I also need to express our deepest appreciation to Mary Guthrie for getting us to this point." Guthrie, who has faithfully served as interim VP of student life this past year, will be moving back to her role as associate dean of students, a position she has held since 2018.