Trinity Law School is a Christian law school that offers a unique, yet practical educational foundation from a biblical perspective. Your professors strive to challenge you and arm you with the knowledge you need to pursue a meaningful life of service. Whether your journey leads you to become an attorney, professor, or business leader, Trinity is where you not only learn the law, but also engage in practical opportunities to put your passion to work.
---

To graduate with a Juris Doctor degree, you must successfully complete 74 units of required courses and 16 units of electives (90 units total) with C average (2.0 GPA). Full-time students can expect to complete their JD in three years, while part-time and Flex Track students can complete it in four years. All JD students benefit from On Course, our exclusive program that prepares you for the California Bar Exam starting on your first day of class.
---
The majority of online Juris Doctor coursework is completed independently by the student. Live sessions via video conferencing are required at specific times. Live sessions ensure that information studied independently is sufficiently comprehended. Law school is demanding, and regular live guidance throughout the JD degree is necessary for future Bar exam success. These live sessions will be held on the first three weeks of class and every other week after that.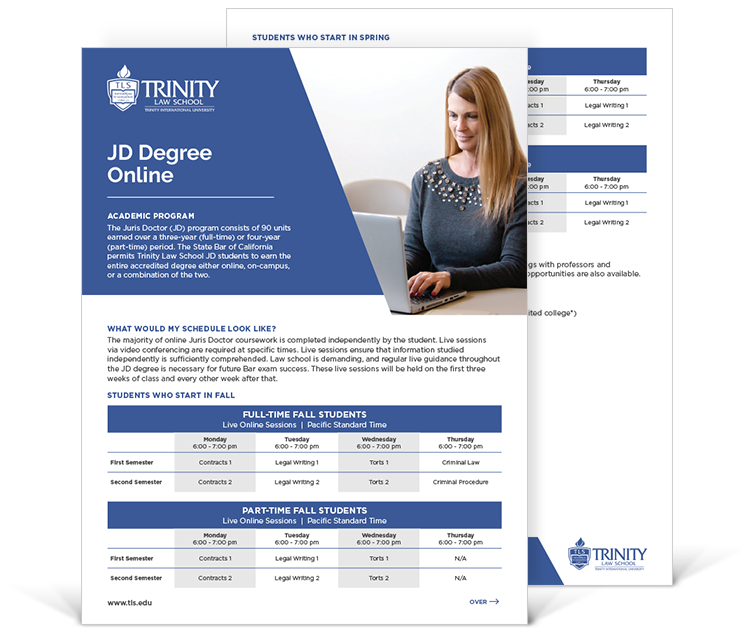 OTHER ASPECTS OF COURSEWORK BESIDES LIVE SESSIONS
Online orientation, discussion boards, quizzes, video lectures, exams, meetings with professors and
academic support, are all part of the program. Internship and study abroad opportunities are also available.
Pre-legal Education (Associate or Bachelor degree, or 60 units at accredited college*)
LSAT score of 145 or higher
Personal Statement
Official transcripts from all schools attended for college credit
Two letters of recommendation directly from the recommender
*Details available from Admissions Department