Convocation 2019: Practicing Holy Agility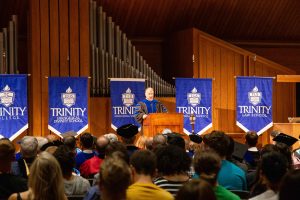 Trinity's 123rd Convocation opened the 2019–20 academic year on August 21, with President Nicholas Perrin delivering an address that encouraged the community to avoid the mistake of merely "passing through" without being open to changes and challenges to our ready-made plans.
"This may sound funny but somewhere in the back of my mind I thought the world would stop for my first day of [Junior High]. The day proved me wrong and I've grown to realize that nothing will be quite as I dreamed them up," President Perrin quoted from Latoya Hunter's diary My First Year of Junior High to kick-off convocation.
"Nothing will go entirely the way you dreamed it up," Perrin said. "Not to knock dreams and goals, but most of our dreams are about where we're planning to end up, where we want to be. Today I encourage you to nurture those dreams, but also to hold on to them lightly. Where we think we want to be headed is oftentimes not exactly where we need to be."
The story of the Samaritan woman (John 4:1–26) set the stage for convocation, in which Perrin noted that the Greek in verse 4 depicts Jesus as simply "passing through" Samaria on his way to Galilee; so, too, was the Samaritan woman making a common trip to the water well. But all this interaction was no coincidence. "With God there are no accidents."
Jesus was breaking several social norms in engaging the woman like that in public, said Perrin. In response, she likely would have wanted to get away quickly. But her day turned out very differently than what she had planned.
"Jesus sometimes asks us to pivot from our tight-fisted plans and dreams," said Perrin, "and practice a holy agility."
In closing, Perrin exhorted Trinity's students to listen well to the promptings of the Holy Spirit through fellow students, mentors and professors, to "be careful lest your eagerness about your own dreams and goals cause you to think of yourself as someone merely 'passing through' your time here at Trinity."
"By God's grace," Perrin charged, "take advantage of it."
Prior to his address, Perrin recognized several members of the Trinity community, including the large number of internationals enrolled as well as each school of the university—from doctoral and masters students to undergraduates. He then gave the call for all in attendance to give a rousing cheer of "Go Trojans!"
University Organist and Professor Emeritus of Music Paul J. Satre joined Assistant Professor of Music Brian Reichenbach, Clinical Assistant Professor of Music Charles D. King, Melody Velleuer, Associate Professor of Biblical and Systematic Theology David J. Luy, and the Trinity College Choir in providing music for the service. Other Trinity participants included mace-bearer Assistant Professor of Old Testament and Semitic Languages Michelle E. Knight, Chair and Associate Professor of Psychology Timothy M. Robinson, TEDS Associate Dean H. Wayne Johnson, Professor of Church, Culture and Society Peter T. Cha, Vice President for Enrollment Shawn Wynne, Associate Professor Communication Kristin Lindholm, Interim Dean of Trinity College and Graduate School and Professor of Music Don Hedges, and Professor of Church History Scott M. Manetsch.
See the entire address below: