Orlando "Tulio" Faroh Vargas grew up in Venezuela. The country was in turmoil, as was his mental health. Despite living in a loving, church-going family, the message of the gospel never sunk in. As a teenager, Tulio says, "I was depressed and struggled with life because I didn't have God." 
A family vacation trip to Florida didn't lift the depression. His worried mother called her friend Maria, a psychologist, to help him. "She started to talk with me little by little about God, and the way she was talking about her faith was different than what I'd heard before, so I said, 'Can you invite me to your church?' I went with her—and that same day, I gave my life to the Lord."
A few months later, Tulio's mom also accepted Christ as her savior. Then the family moved to Spain. It was another lonely time for Tulio, but he reached out to Maria for help this time. "I said, 'There are no Christians here. I want to study, to grow, and to meet Christian people.'" She suggested a major move, "I went to Trinity Florida. And I'm pretty sure you'd like it there, too."
A short time later, Tulio applied to get a student visa to come to Trinity Florida. He was nervous about his English—conversationally, he was fluent— which made him insecure about college work.
Tulio overcame his fears and was pleasantly surprised by what he found in his classes at Trinity Florida. "I realized I was not the only one worried about studying in English. . . . I had a friend like me from Haiti . . . and that made me feel more comfortable."
Tulio remembers his second day at Trinity Florida. In the first class that day, the professor told him, "I'm proud of you, Tulio! You're brave to come from a Spanish-speaking country to study here." That was very encouraging—and gave him the confidence to go on.
Tulio says that his whole life has improved at Trinity Florida. "My faith has grown—because of the knowledge these professors have and what they talk about—it has helped me a lot."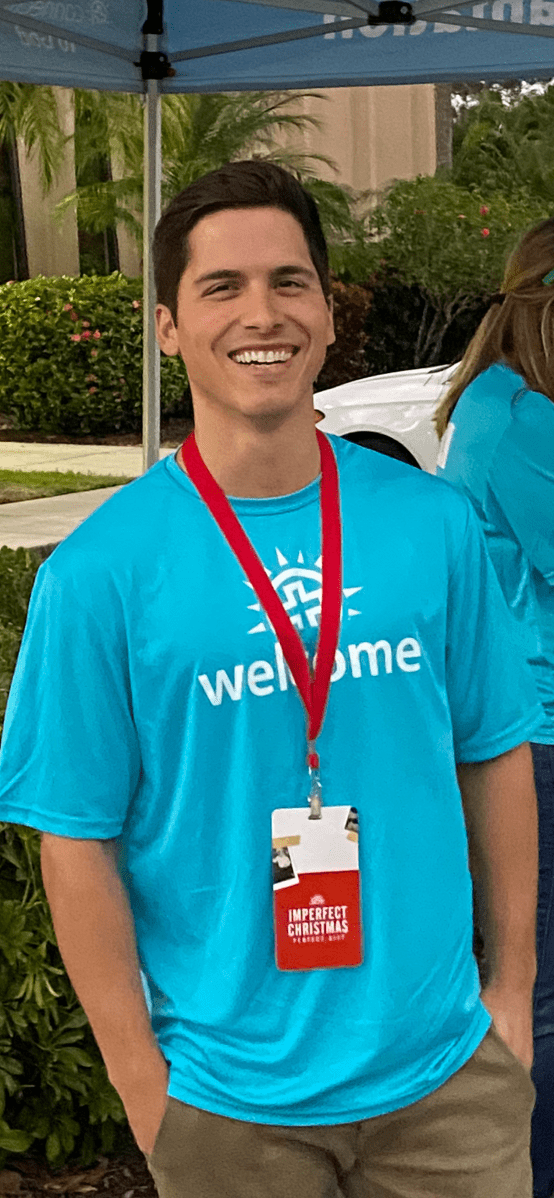 ---
"We're learning all the theories, but they also put God in the studies. It's just a different way of looking at what we're studying."
---
Tulio spent two years at a community college and earned an associate's degree before coming to Trinity Florida—and he sees a big difference between the two experiences. "I love it here! All the professors are friendly and really help you with any doubts that you have—it's more intimate."
He says that a Christian worldview is demonstrated in each class by the Trinity Florida professors: "They are so kind. We're learning all the theories that students in secular schools are learning, but we also include God in our studies. We take into consideration that there is a spiritual war going on in our world—which is a different way of looking at things."
---
"The professors live out their faith, and they talk about it, and it's helped my faith grow."
---
Tulio earned his BA in Christian Ministries from Trinity Florida in May 2021 and is already working on a second BA in Psychology. He intends to pursue an MA in Theological Studies after that. Currently, he's the translation coordinator for his church, scheduling all the translators for the services and distributing ear phones to those who want them.
"I don't know yet what God wants me to do. My passion is evangelism; I cannot stop sharing the gospel. I have prayed and asked God if he wants me to be a pastor." While Tulio seeks God to confirm his calling, he feels confident that it will be something in the church.
Tulio keeps talking to his family and friends about the Lord—and also about Trinity Florida. "Being with everyone in the classes, it's like a family . . . you feel at home."
Trinity Florida offers classes to help students build that confianza en mi mismo, the confidence that they CAN do college work and write to express their ideas in English. Check out the degrees that Tulio has found interesting, and see where your FAITH will take you!
Learn more