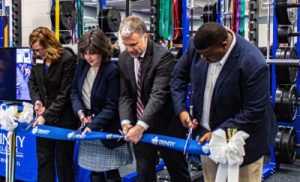 Trinity International University dedicated its newly renovated weight room with a ribbon-cutting ceremony in the Meyer Sports Complex on Thursday night with President Nicholas Perrin, director of athletics Heather Logue, members of the University staff and Board of Regents, and student-athletes in attendance.
"Athletics are such a big part of life," said President Perrin during his dedication remarks. "When we talk about education, we're not just talking about what happens between the ears; it's the whole body that counts."
"This project started knowing that this space would have an impact on this community and the students here," Perrin went on to explain. "I'm so grateful to the Lord that he's given us Trinity as a community where we come together, not just in the classroom, but on the playing field and in great spaces like this."
The renovation project began in December of 2019 and continued throughout the holiday break to expand the overall size of the facility. Final touches and the installation of new lifting equipment were put in during the last week. In addition to the official ribbon cutting, President Perrin broke in the new equipment with the first bench press, spotted by head football coach Lamont Butler.
Along with the expanded footprint of the facility and new equipment, a new centralized sound system was installed with speakers built into the ceiling, being controlled from a touchscreen access panel.
The facility will open officially for student-athlete and community use on a date to be determined.