reflections on evangelist and apologist Ravi Zacharias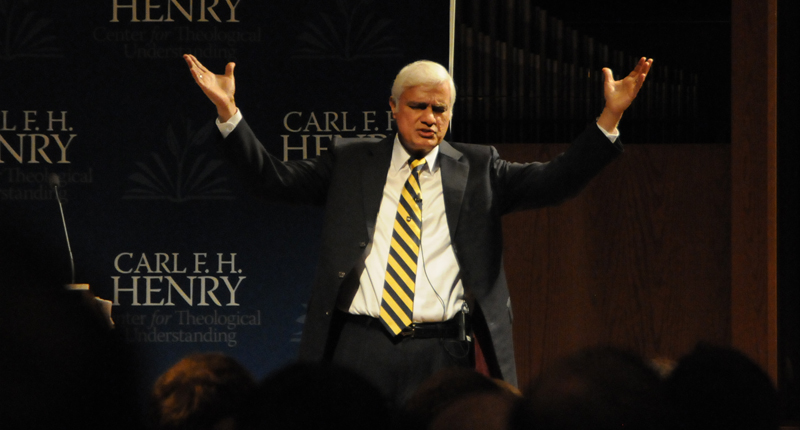 It is with sadness and heavy hearts that we heard of the passing of Ravi Zacharias on Tuesday, May 19. He had spent the past 46 years commending the Christian faith and addressing life's great existential questions of origin, meaning, morality, and destiny with eloquence and grace. He founded Ravi Zacharias International Ministries (RZIM) in 1984, with the firm conviction that the truth of Jesus Christ can endure the toughest critiques and philosophical attacks.
"From Indonesia to India to Indiana, millions of persons throughout the world benefited enormously from listening in person, or through radio broadcasts or videos, or through reading the wise Christian counsel of evangelist-apologist Ravi Zacharias," said Research Professor of Church History and the History of Christian Thought John D. Woodbridge, who met Zacharias as a student for the first time in a class he taught at Trinity Evangelical Divinity School (TEDS). "He became a dear friend" (read Woodbridge's full reflection here).
"There can be little question about the great impact of Ravis's global ministry," Professor and Director of the TIU-RZIM Partnership (2010–13) Craig Ott said. Zacharias is best known for his public speaking on apologetics, often fielding questions from the audience. He also met with numerous political leaders and religious figures. He debated Islamic scholars with grace and conviction.
"Ravi loved Trinity and spoke at the school on numerous occasions—especially during the days of the TIU-RZIM partnership," said Woodbridge. "Ravi hoped that Trinity would be a place where persons training for the Christian ministry would become well equipped to be winsome, caring apologists for the Christian faith. He also envisioned Trinity might become a 'bench' from which future staff members of RZIM would emerge."
One such future staff member and TEDS alumnus is Karl ("KJ") Johnson (MA, Philosophy of Religion, '14; MA, Systematic Theology, '16), Senior Advisor to the Global CEO at RZIM and the Director of the C.S. Lewis Institute in Chicago.
"Ravi Zacharias is, in large part, the reason I found myself in a TEDS classroom on August 22, 2012," Johnson said. "I'd just retired after twenty years of active duty service as an officer in the Marine Corps, and most of the class was half my age (but twice as sharp!). But it was during my time in the Corps that I discovered Ravi."
While Johnson was in Afghanistan, he was wrestling with what to do next: "I'd be eligible to retire soon and needed to sort things out. We try to chart our own course, but God determines our actual path (Prov. 16:9), and during that time in Afghanistan it was revealed that TEDS was where I belonged. He used Ravi and the RZIM team to help nudge me in the direction. About that time, RZIM and TEDS announced a formal partnership."
"I knew Ravi was a TEDS alum, but little beyond that. God used my connection with Ravi to learn more and to respond to his call to attend TEDS from 2012–16" (read Johnson's full reflection here).
Another TEDS alumnus who went to work with Zacharias is Derek Caldwell (MATS, '13; MA, Church History, '15). Caldwell currently serves as a correspondence assistant for RZIM.
"For many of us once far from Christ, Ravi Zacharias was one of the first ambassadors we met," Caldwell said. "Ravi's mission in life was 'evangelism undergirded by apologetics.' But as he often said, 'love is the greatest apologetic.' It wasn't just the truth that Ravi gave us, but love; they were not separated from one another, but inseparably intertwined in the way they were designed to be."
"They say never meet your heroes, but the old adage is untrue in Ravi's case. He was as kind, generous, and loving as he appeared on stage. Ravi showed us all how to love God with our hearts and minds, and our neighbors with truth and compassion. He was a humble servant and a true theologian of the cross. What better legacy can one have?"
Ott went to relate how Zacharias' remarkable conversion story, his clarity of communication, his winsome and charismatic personality, his ability to relate to diverse audiences, and his sharpness of mind "all combined to create a very powerful testimony and fruitful evangelistic ministry."
"What I perhaps remember most were some small breakfast meetings with TEDS and college students," Ott said. "During a Q&A time with students he was very gracious, unassuming, and engaging. He loved Trinity."
Zacharias graduated with a Master of Divinity from TEDS in 1976, and he often recounted his love for the school, which was reflected in his many visits back to campus to engage and exhort the Trinity community, whether in chapel, lectures, or meetings with students. Below is a video gallery of a few of those instances:
University Chapel: "If the foundations be destroyed…"
.
.
RZIM Lecture: "The Gospel in Light of New Spirituality"