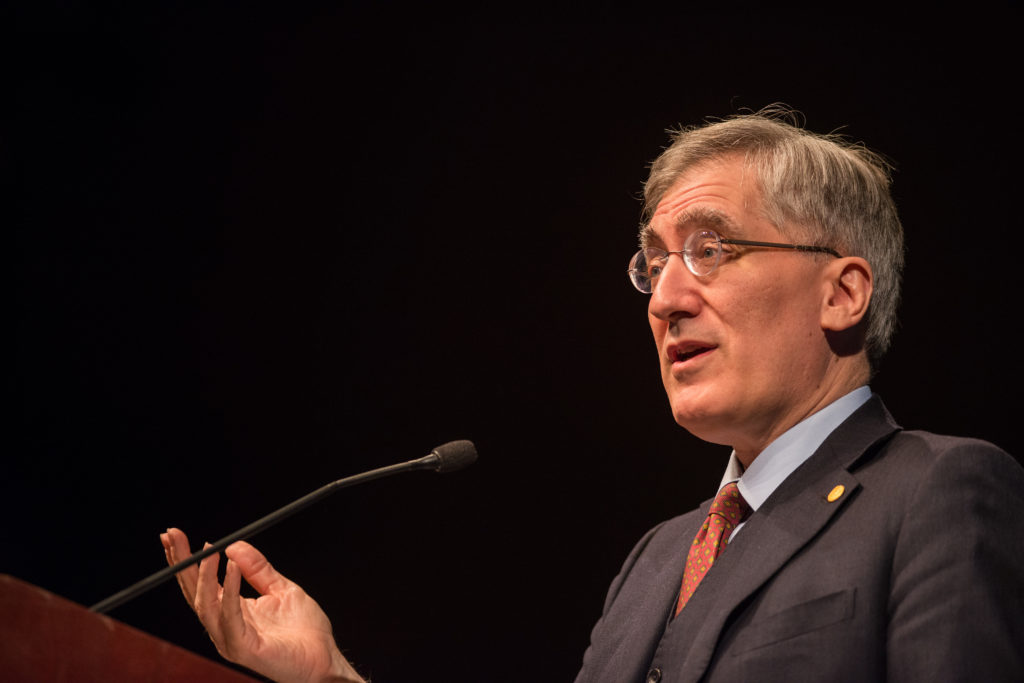 Each semester, The Center of Bioethics & Human Dignity (CBHD) invites lecturers from the field of bioethics to speak for the John F. Kilner Lectureship. CBHD, the bioethics research center at Trinity International University, explores the nexus of biomedicine, biotechnology, and our common humanity. On Thursday, March 18, CBHD hosted the third and final lecture in their Spring 2021 Bioethics Colloquia with a lecture on "Natural Law, God, and Human Dignity" by speaker Dr. Robert P. George.
Many influential thinkers have shared the Kilner Lectureship stage in the world of bioethics. Dr. George is McCormick Professor of Jurisprudence and director of the James Madison Program in American Ideals and Institutions at Princeton University. He is also frequently a visiting professor at Harvard Law School. He holds graduate degrees from both the University of Oxford and Harvard University and also holds 21 honorary degrees (including a DLitt from Trinity in 2016).
George's presentation explained the importance of natural law and understanding our humanness. He explained:
If the body doesn't matter, and if our biology isn't us, then why would we object to a policy that says the following: when women come into the hospital or birthing center and have babies, if they have a baby, they get to go home with a baby. But since the body doesn't matter, and biological reality doesn't matter, therefore biological relations can't matter. So why should a mom go home with her own baby? Why not send every mom who contributes a baby home with a baby? If 15 babies are born this weekend, 15 moms go home with 15 babies chosen randomly.
While the lecture itself was open to the public, Trinity students within the bioethics program spoke to Dr. George in a Q&A session after the lecture. Opportunities to ask questions to those who are respected in the field are essential for students.
Stephen Largent, BA/MA Bioethics '23, said that "for students such as myself who are new to the field, the Kilner Lectures give me the ability to interact with experts in the field that I would not have the opportunity to interact with otherwise." Largent had the opportunity to ask Dr. George what it is like to be a Christian in a highly secular world.
Dr. George responded: "It's a big challenge to be a Christian or believer of any sort; observing Jews, Muslims in the contemporary intellectual world. Secular progressive ideology is like a competing religion that plays a role in people's lives in the same way that the Christian faith plays a role in a believer. Secular progressives will not be any kinder to our beliefs than Christians would be to [the progressives'] beliefs. So you might not get a job or get admitted to a program that you would have been completely qualified for otherwise."
The Q&A ended with a challenge from Dr. George to students: "It's going to take courage, especially for you younger people; you're flying into the whirlwind. Learning what it means to bear witness, there is nothing more meaningful than that. Speak the truth as God allows you to see the truth. Don't treat others the way they treat you; treat them the way they should treat you. You have to be bold."
Learn more about the MA in Bioethics program here.
To find out about research and events, visit CBHD.org.