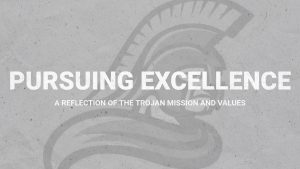 This week, Trinity International University began its sixth week of distance learning with classes taught online due to the widespread COVID-19 situation. As a result of no in-person classes and in an effort to prevent the spread of COVID-19, all athletic events at TIU, as well as in the Chicagoland Collegiate Athletic Conference, and the entire NAIA have also been cancelled for the remainder of the academic year.
While the baseball and softball fields lie empty, the equipment in the newly renovated Trojan weight room remains largely unused, and as student-athletes are spread far apart, time away from competition and training creates time to reflect. As Trinity prepares for the eventual return to sports, we reflect on what we as Trojans aim to achieve through our athletics mission statement and core values.
"We desire to form men and women who pursue wholehearted excellence for Christ through unique educational experiences in intercollegiate athletics." Those 20 words embody what it means to be a TIU Trojan student-athlete. Trojan Athletics also looks to the words in I Timothy 6:11-12 as guiding verses towards achieving that mission.
"But you…pursue righteousness, godliness, faith, love, endurance and gentleness. Fight the good fight of the faith."
For head men's basketball coach Greg Miller, he uses the game of basketball to teach this mission.
"I personally believe that if we do not mold the young men while they are with us, the world will, Miller says. "We want them to be Christians who play basketball by the time that they graduate."
TIU athletes work in four areas to strive towards "wholehearted excellence" through educational and athletic experiences. Competition, academics, personal growth, and community and world impact.
Through the words of Matthew 25:14-30 and II Thessalonians 1:11, Trojans are taught to focus on excellence and fulfillment of God-given potential, refusing to define success solely on the contest's final score. By creating a genuine respect and concern for opponents and the realization that a worthy foe elicits the best in us, TIU student-athletes learn that to compete, means to strive together.
For Miller and his team, they embody competition through a hashtag motto, #PlayFree.
"This represents two things," Miller explained. One, we want our team to play freely and to not hesitate during the game. They need to test their training and compete at the highest level possible. Second, we play to glorify the Lord. There should be no pressure on our men to please anyone else by their play. This allows our guys to play at a high level and without pressure from external factors."
As student-athletes, Trojans are part of programs that promote a genuine desire for lifelong learning among teammates. As written in Proverbs 23:12, "apply your heart to instruction and your ears to words of knowledge." Coaches and teammates work to provide accountability and motivation towards finding academic success and helping push students toward the ultimate goal of graduation.
It is often believed that the college experience is just a part of the marathon of life. At Trinity, commitment to an athletic experience is designed as a vehicle to develop the whole person. While a four year experience as an athlete may seem like only a short period of time, it can create a personal impact that can stretch years and decades into the future. TIU uses the establishment of a true and lasting legacy within their athletic programs to help better shape future husbands/wives, parents, employers/employees, and friends.
Beyond the playing field, there is an opportunity for Trojan athletes. As Matthew 28:19-20 states, "…go and make disciples of all nations, baptizing them in the name of the Father and of the Son and of the Holy Spirit, and teaching them everything I have commanded you. And surely I am with you always, to the very end of the age." At Trinity, student-athletes and coaches will seek to model the life of Jesus Christ through acts of service toward their teams, the university campus, the Chicagoland area, and the world.
In working towards Trinity's athletic goal of finding excellence for Christ, four core values stand as pillars on the path of fighting the good fight for faith. Christ-centered, comprehensive education, community, and cultural engagement.
"These mean a lot to me and our program and it is because each of these have directly affected me in one way or another," said Miller in reflecting TIU's athletic core values. "I had a great experience playing for Jim Kessler at Grace College and I want to be able to do the same thing for the men in our program."
Each season, Coach Miller challenges his players to memorize a team verse and recite it before each practice.
"This and prayer, prior to games and practice, help us keep Christ at the forefront of our program at all times," Miller explained. "We have Bible study once a week where we try to stay up to date with each of our men, give them a devotional thought, present the love of Jesus, and pray with them.
Trinity challenges students in the classroom and this allows them to grow.
"Our young men are four years or less from joining the workforce," Miller described. "A biblically integrated education will prepare them for whatever is next in their life.
Outside of the competitive season, Trojans are also active in working in their communities.
"Our main community outreach is our summer basketball camps for young kids," Miller says. "They get to see how we operate as a program, they get to spend time with our men, and we present the gospel of Christ as well as the love of Christ throughout the week."
The aspect of a strong community is rooted in all of TIU's athletic programs, as explained by head volleyball coach Luke Ward.
"I hope that the volleyball program is where players experience and actively participate in a Christ-like community consisting of trust, teamwork, and accountability," Ward says. "I want the practice gym to be a safe place for us to learn and grow athletically but also a place of discovery where they develop into the individuals and team that is God honoring. We cultivate this kind of community by spending time getting to know one another, listening to each other, and learning to appreciate our training as special. In that safe community athletes are both encouraged and challenged to reach their fullest potential. "
While TIU student-athletes are encouraged to work in their communities, they are also encouraged to get involved outside their normal surroundings.
"I have only been here for less than a year, but I am looking forward to doing mission work here in the states as well internationally in the next few years," Miller says. "I believe that a cross cultural experience is one the best ways to grow in your faith."
While uncertainty lingers about the future, reflection can be a powerful tool. It can be used as a time to examine one's relationship with the Lord, and how it can be improved. At Trinity International University, even with no games being played, a person's relationship with Christ can be lived by through reflection of having a Christ-centered life, a comprehensive education, involvement with the community, and engagement with other cultures.