reflection on Ravi from RZIM staff member and TEDS alumnus KJ Johnson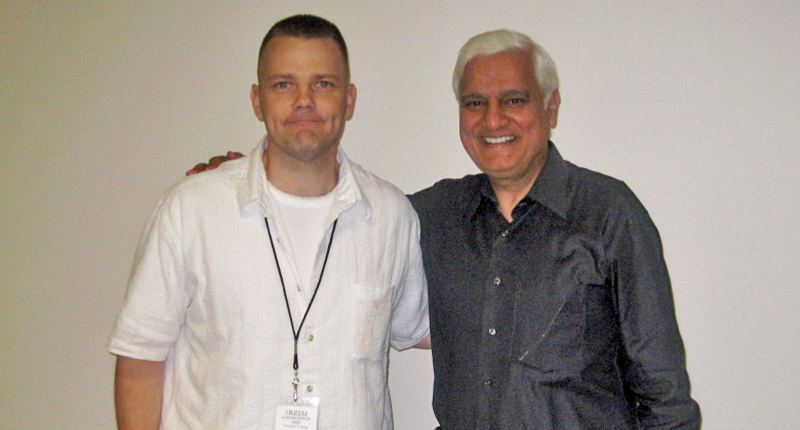 Ravi Zacharias is, in large part, the reason I found myself in a TEDS classroom on Aug. 22, 2012. I'd just retired after twenty years of active duty service as an officer in the Marine Corps, and most of the class was half my age (but twice as sharp!). But it was during my time in the Corps that I discovered Ravi.
After spending over four years overseas, I moved back to the States where my mother told me about "this guy" she'd heard on the radio while I was gone. She told me to listen to him because I would like him. Like a dutiful son, I promptly dismissed her, assuming she was wrong. Months later, though, while driving late one night, I heard a unique voice on the radio. I realized this must have been "that guy" my mother told me about, and I knew I was sunk: I'd have to admit that my mom was right. I was definitely interested in Ravi Zacharias, and would be for the next twenty years.
I started to read Ravi's books and later his podcasts. I attended the annual RZIM Summer Institute each year in Wheaton and got to know the RZIM team personally. They challenged me to think more deeply and to take my theology seriously. I learned much more than apologetics or evangelism through Ravi and his team. But I'd not really met Ravi yet.
Years later, I invited Ravi to speak to the Marines in Quantico and, to my surprise, he accepted my invitation. Weeks before I deployed to Afghanistan, I picked Ravi up at Capitol Hill where he'd just finished speaking to congressmen. I spent most of the weekend with him and got to know him for the first time. You'd think I'd have peppered him with questions, but that's not really what happened. Ravi took an interest in me and my story, and he asked questions of his own and did a lot of listening.
When I dropped him off at the airport, I reached out to shake his hand but he hugged me instead. I told him, "I'm not sure what I could do for you, but if I can ever do something, please don't hesitate to ask." He'd probably been offered that many times before, but he made me feel like he took my offer seriously as he put my info in his coat pocket. Apparently, he took it seriously. Nearly two years later, just as I was nearing retirement from the Corps, he emailed me and asked me to consider a job at RZIM. To my embarrassment, I almost deleted that email without reading it because it looked like spam. Thankfully, I opened it.
While I was in Afghanistan, I'd wrestled with what to do next: I'd be eligible to retire soon and needed to sort things out. We try to chart our own course, but God determines our actual path (Prov. 16:9), and during that time in Afghanistan it was revealed that TEDS was where I belonged. He used Ravi and the RZIM team to help nudge me in the direction. About that time, RZIM and TEDS announced a formal partnership. Even though I grew up in Chicago in the 70s and 80s, I did not know much about TEDS.
I knew Ravi was a TEDS alum, but little beyond that. God used my connection with Ravi to learn more and to respond to his call to attend TEDS from 2012-2016. So when Ravi returned to TEDS in February of 2013 to speak, I was excited to welcome him back. However, after his talk that first night, I got cold feet. I thought to myself, "Ravi meets thousands of people a year, and you haven't seen him for three years. He won't remember you." I decided to head home.
As I paused to second guess myself, and even though I was behind ten or fifteen people, I heard Ravi shout, "KJ!" I later learned that Ravi had an excellent memory for faces and names, even for some of the more casual encounters. He was amazing that way, and he was always an excellent listener. He'd recall small details that most would forget. He had a powerful way of making everyone he met feel important. As one of my RZIM colleagues said, Ravi could "dine with kings and make a taxi driver feel like a king."
I did not take the job Ravi asked me to consider. Not because I didn't want to work for RZIM, but I felt compelled to attend seminary after retiring. He readily agreed, affirming I was making the right decision. He suggested that I travel with him while was at TEDS to get a better sense of my calling. After reconnecting with him in ATO Chapel in 2013, he invited me to join him that summer and I accompanied him to the Global Discipleship Congress in Manila.
There were more connections and interactions with Ravi from that point forward, and I ultimately ended up taking a job at RZIM in 2017. Within a month of joining RZIM, I lost my brother to cancer. The love and grace heaped upon me by Ravi and his family was tremendous. I couldn't have asked for any better support.
As we tearfully prepare to say goodbye to Ravi, I hope I can now return that favor in some small way to his family. I'm grateful and thankful to have known Ravi, to consider him a friend, and to have spent those times with him. More than he can ever realize, he helped me to become the man I am today—both from afar through his teaching and writings, and up close in his example.
Thank you, Ravi.
—
Karl "KJ" Johnson (MA, Philosophy of Religion, '14; MA, Systematic Theology, '16) is Senior Advisor to the Global CEO at Ravi Zacharias International Ministries and the Director of the C.S. Lewis Institute in Chicago.