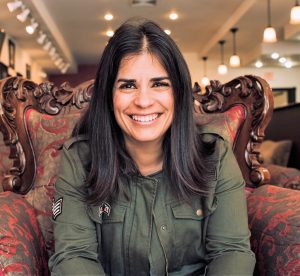 THE FIGHT AGAINST HUMAN TRAFFICKING
It was the most difficult, desperate life anyone could imagine.
At various times, Amor Sierra was homeless, addicted to drugs and alcohol, and constantly carrying the scars of a childhood marred by repeated physical and sexual abuse.
"I was someone who attempted to commit suicide on numerous occasions," Amor says. "I was an atheist for about nine years, and then Jesus came back into my life and radically changed me forever."
In the 16 years since that recommitment of faith, Amor has worked to serve Christ, making Him known in some of society's darkest corners.
"I'm finding myself now on a platform, speaking to kids and speaking to abused women," Amor says. "I'm speaking to so many people."
In addition, Amor lists among her top priorities a ministry to women who are victims of human trafficking. She is an active member of nearly a dozen anti-trafficking organizations in South Florida, and has become a trained survivor mentor. She works with the South Florida Human Trafficking Task Force, the Miami Dade County Human Trafficking Coalition, and sits on the board of directors for the nonprofit organization Deliver Fund.
According to the U.S. State Department, up to 800,000 people are trafficked across international borders each year. About 80 percent of the victims are women; 50 percent are children. The International Labor Organization estimates that forced labor and human trafficking represent a $150 billion worldwide industry each year.
"Most of what I do is in the aftercare, once the victim has been rescued," Amor says. "I've been doing this for about five years. I don't get paid for it, so it's kind of what I do, and it's definitely my passion."
Amor arranges to remove or cover up tattoos trafficking victims received involuntarily – tattoos meant to mark them as property. She owns and operates Miami Tattoo Company on South Beach. Her studio also helps cutting survivors, breast cancer survivors and former gang members.
Before opening the studio in 2013, Amor had left a lucrative spot in the business world to perform volunteer work. She overcame her difficult background and lack of formal education to emerge a leader in that corporate world, building a professional career that led to a six-figure annual salary.
"Every time I would meet other managers in conference," Amor recalls, "the first question was always, 'Where'd you go to school?'"
The questions, although innocent, gnawed at Amor's insecurities.
"I lived with a big chip on my shoulder," Amor says. "I didn't think I was smart enough to go to college. I didn't think I could do anything like that."
When Amor met Patricia (Pat) Colangelo at an anti-trafficking event, it was time to confront all of that doubt.
Pat, Trinity Florida's director of operations, urged Amor to bolster her ministry work with a Christian ministries degree program. Amor recognized the wisdom in that advice, but the thought became frightening.
"All the demons kept coming back: 'oh you're not smart enough, you can't do this,'" Amor recalls thinking to herself in the days before her first TIU class. "I said, 'Pat, I'm going to drop out.' And she said, 'I need you to come in,' and Pat talked me off the ledge."
Self-doubt is an enemy of adults who return to the classroom after many years to obtain a degree. Amor says she is glad she didn't quit before the start of that first class.
"I'm so happy," Amor says. "I'm learning so much. I just feel so good, and I know that I'm going to be able to use the degree to help people."
After dropping out of high school many years ago, Amor has a new appreciation for education.
"I don't want to just know the bible from reading it, I want to know how to talk to people about it," Amor says. "I want to use everything I'm learning at Trinity on a much broader and greater scale.
"Even though I'm helping people already, I just want to know that I have the knowledge."